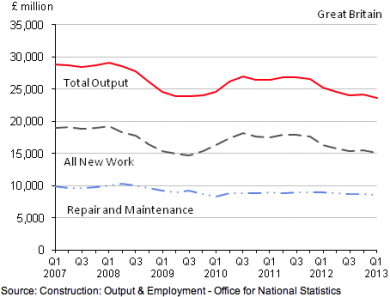 Construction out fell to a 15-year low in the first three months of the year, down 2.4% on the previous quarter at the end of 2012.
The extent of the fall was first flagged up in the GDP figures last week but more details have now emerged of the major hit on new output, which fell by £500m or 3.2%.
There were falls in almost all sectors of the industry, with the exception of private housing repair and maintenance which showed a modest increase of 0.4%.
Private commercial other new work, which accounts for 22% of total output, is now 38% below its peak in 2008 and at its lowest level since Q4 1997.
Other new work excludes the housing and infrastructure sectors but includes construction of factories, warehouses, schools and offices.
Comparing the first three months to a year ago construction output decreased by 6.5%. New work was lower by 7.8% with large falls in public other new work and private-commercial other new work, which reported decreases of 19.2% and 7.8% respectively.
There was also a 4.1% decrease in repair and maintenance, mainly due to a 6.9% fall in the repair and maintenance of housing.
This article was taken from the Construction Enquirer website and can be accessed in full by visiting their website.