This article was taken from Construction Enquirer and can be read in full by visiting their website.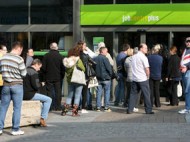 One-in-three small to medium-sized building firms fear they will have to cut staffing levels this year.
The gloomy prediction comes in the latest state of trade survey by the Federation of Master Builders.

Employment levels fell again during the last quarter of 2012 and small builders predict more of the same this year.
Workloads decreased last year, and are expected to keep falling at least for the first half of 2013.
Housing was the only bright spot as the rate at which workloads and employment in the sector fell slowed in the fourth quarter of last year, with many specialist trades reporting the first rise in employment since early 2011.
But there were no positive signs in the non-residential sector  where many firms said they may have to introduce price rises as overheads continue to eat into profit margins and the likelihood of lay-offs loomed.
Brian Berry, the FMB's Chief Executive, said: "These figures reinforce what we already knew that 2012 was a very tough year for construction, and the outlook for 2013 is still bleak.
"The Government's support for infrastructure spending is good but it needs to look at ways it can boost the building industry, not least the urgent need to build more new homes by freeing up land, easing planning red tape and by pushing investment through its new Business Bank.
To read the FMB latest State of Trade Survey and the remainder of the article please visit the Construction Enquirer website.